Citizen-led Community Districting For Ohio
---
Our Unity Maps are complete!
| Ohio House | Ohio Senate |
| --- | --- |
| | |
Ohio Congress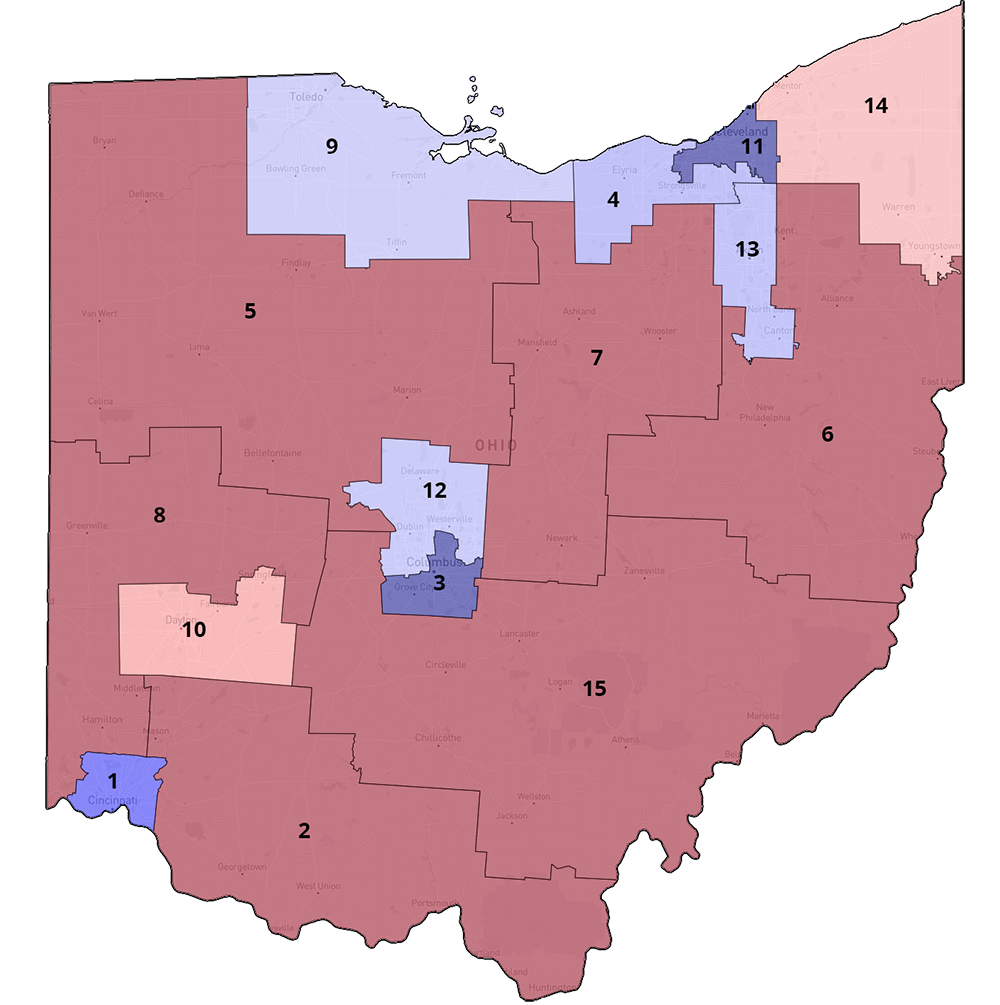 Goals
The OCRC has three goals:
Model a thorough and robust engagement process.
Develop and demonstrate citizen-derived principles of redistricting.
Draw unity maps based on community input and feedback to be submitted as testimony to the state's official redistricting commission.
About the Ohio Citizens' Redistricting Commission
The Ohio Citizens' Redistricting Commission (OCRC) is an independent, nonpartisan commission made up of 15 volunteer members. Commission members include academics, former elected officials, community representatives, and other individual citizens from across the state.
The commission's work includes:
Hosting public hearings for community input
Collecting publicly available data for map-making
Supporting public education on redistricting.
This commission's work will culminate in a report containing recommendations and unity maps based on the testimony and community maps we gather from citizens across the state, which we shall then submit as public testimony in Ohio's official redistricting process.
The Commission is co-sponsored by the Ohio Organizing Collaborative (OOC), Ohio Chapter of the National Association for the Advancement of Colored People (NAACP), and the A. Philip Randolph Institute (APRI) of Ohio. The Commission will partner with the Kirwan Institute for the Study of Race and Ethnicity at The Ohio State University and MGGG Redistricting Lab at Tufts University for data collection, analysis and community mapping.
Questions?
Visit our FAQ page to learn more. For additional questions, email: info@commissionocrc.org.
---
Meet The Ohio Citizens' Redistricting Commission
Alan Bannister, Ohio political professional, former Ohio statewide political director for Joe Biden
Amina Barhumi, Outreach Director at CAIR Ohio
Jeremy Blake, Newark City Council member, Equality Ohio board member
Jeniece Brock, (OCRC Vice Chair) - Health Scientist, Policy & Advocacy Director for the Ohio Organizing
Dr. Ellen Greene Bush, Community Member
Akii Butler, Student Organizer at Ohio Student Association
Kathleen Clyde, (OCRC Co-Chair) - Former State Rep, Former Candidate for Sec. State
Sam Gresham, Chair of Common Cause Ohio
Dr. Richard Gunther, Professor Emeritus, Ohio State University
Gregory Moore, (OCRC Co-Chair) - President & CEO of Promise for Democracy
Dr. Lis Regula, Lecturer, University of Dayton
Tom Roberts, Ohio Conference of the NAACP & former State Senator
Katy Shanahan, All On The Line Ohio State Director
Barbara A. Sykes, President & CEO of Ohio Legislative Black Caucus Foundation
Chris Tavenor, Staff Attorney, OEC Law Center
André Washington, President of the A. Philip Randolph Institute (APRI) Ohio Chapter
Commission Selection Process
Commission members are selected through an application or referral process. There is no requirement for existing familiarity with redistricting. We desire a wide range of background knowledge on the topic.